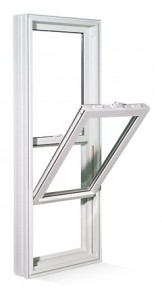 Single Hung windows by Smart Windows Colorado feature a beveled frame design that will complement any home style.
What is a Single Hung Window?
While it is similar in appearance to double hung windows, in single hung windows only the bottom sash is operable. The bottom sash tilts inward for easy cleaning from within the home, while the upper sash is in a fixed position to provide the top protection against air-infiltration. Whatever your personal preference, Smart Windows Colorado will help you find perfect single hung replacement windows to match your house's style.
Features and Benefits:
Full-fusion welding points at the corners provide the best level of strength, weather tightness and appearance for both the interior and exterior of your house
An innovative multi-hollow construction traps air and provides excellent insulation and sound muting
Advanced weather-stripping offers a strong level of protection against air and water leakage, as well as resistance to mold and mildew damage
The window's special design results in more glass area for a larger, brighter view without forgoing strength or functionality
Customized glass packages give you the opportunity to design a window system to fit your home's unique style
Custom manufactured to ensure the windows are a perfect fit for your home
Click on the video to view a 360 degree view of a single hung window by Smart Windows Colorado
Single Hung Windows Pictures
Available Single Hung Windows